The Signing Ceremony of e-Trike & BSS Pilot Project was Held from 3 Countries, in 4 Places, among 7 Parties Songuo EVs are driving on the roads of "China–Pakistan Economic Corridor"
The epidemic did not stop Chinese enterprises from moving forward to internationalization. On 19 May, the online signing activity of Songuo-Pakistan e-Trike & BSS Pilot Project was held in the New Energy Equipment Industrial Complex of Dezhou (Yucheng) High-tech Zone. After nearly two years negotiation and communication, there are 5 enterprises of Pakistan who signed on the Songuo-Pakistan e-Trike & BSS Pilot Project. This an vitally important step for Songuo Motor after signing the construction agreement on international logistic complex with SAMSUNG SDS of South Korea last year and the first batch commercial vehicles being approved in South Korea for driving on the road.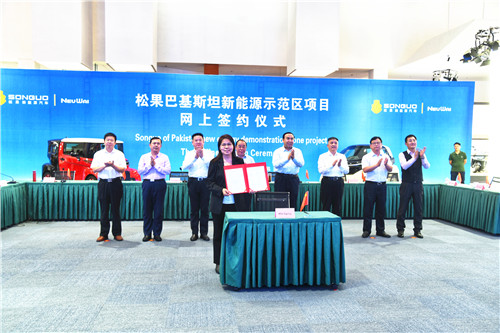 During the activity, the networking signing was proceeded among representatives from 7 parties, including Songuo Motors, Pakistan Sazgar Engineering Co., Ltd., Pakistan Gas & Oil Company, Pakistan General Fan Company, 47 Ventures Capital and associated enterprises respectively in Yucheng of China, Seoul of South Korea, Islamabad & Lahore of Pakistan. Representatives from SAMSUNG SDI of South Korea, as partner of Songuo Motors, took part in the signing ceremony as well.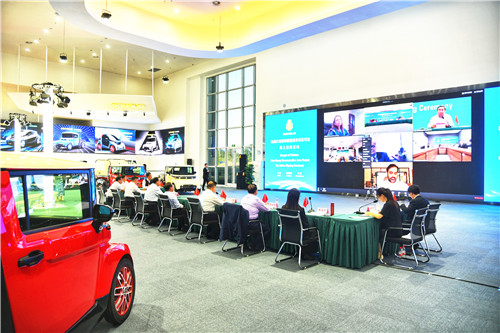 It is informed that the pilot project includes two sections, one of which is swapping system construction as Pakistan infrastructure facility, cooperated with energy storage enterprises, gas & oil Company, electric company etc. While the other section is to export Songuo electric bicycles, electric tricycles and EVs to the project site, and bring the awareness to the public based on established swapping system with the cooperation of E-commerce platform (logistic network for electric logistic vehicle and motorcycle), tricycle manufacturing enterprise etc. The pilot zone mode will be spread across the country after six months of operation to build as the largest new-generation new energy enterprise with the best technology and the latest model in Pakistan.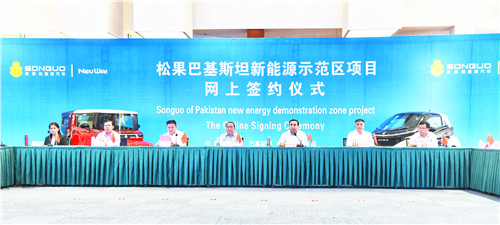 Zhou Haiyan, Chairman of Songuo Motors, said that Songuo has been racing against time. As the products are with high cost-performance prices, there will be further & larger development space for Songuo after the epidemic. The launching of Songuo-Pakistan e-Trike & BSS Pilot Project is not only the continuation of deep friendship between China & Pakistan, but also the responsibility of cooperating partners for a greener and more environmental-friendly planet. Songuo will make every effect into the pilot project.

Dr. Naveed Arshad, from Lahore University of Management Sciences is the founding partner of Songuo Systems. "Pakistan is one of the most vulnerable countries from climate change, and Pakistan direly need EVs to reduce air pollution in its cities", he said. With swappable battery based electric rickshaws and motorcycles the cost of vehicle and battery is split into two different businesses. This makes EVs affordable for the public while it creates a new business for oil companies and other companies interested in battery leasing business.

It is informed that, Yucheng has regarded Songuo as the "No. 1 Project" to concentrate on its superior resources and provide services. The first phase of production line has been fully installed at the beginning of this year.

【 From: Dazhong daily 】