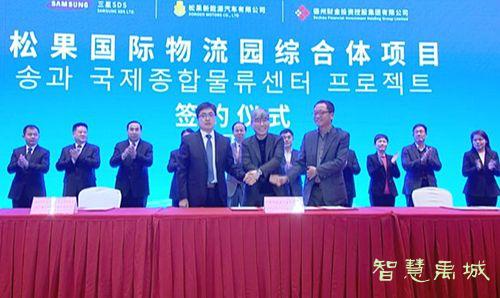 This morning (November 28), the signing ceremony of the Songuo International Logistics Complex Complex project, which was jointly organized by Songuo Motors, Dezhou Financial Investment Group, and Samsung SDS of Korea, was held in Dezhou. Hyung Tae Kim, Samsung Global Group Chief Logistics Officer, Vice President of Korea Logistics Association, Samsung SDS Deputy President; Jiang Taihua, President of Samsung SDS China; Li Shizhi, Level II Inspector of Provincial Development and Reform Commission; Zhang Zhongjun, Level II Inspector of Provincial Department of Industry and Information Technology; Liu Huanping, Level II Inspector of the Provincial Department of Finance; Chen Yong, Secretary of the Dezhou Municipal Party Committee, attended the signing ceremony of the project.
Zhang Anmin, member of the Standing Committee of the Dezhou Municipal Committee, Secretary General, and Secretary of the Yucheng Municipal Committee presided over the signing ceremony.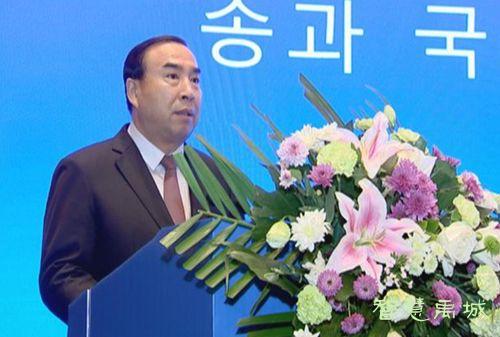 Zhang Guiai, Deputy Mayor of Dezhou City, delivered a speech. She said that in recent years, Dezhou City has maintained close and good economic exchanges and cooperation with Republic of Korea, and a number of Korean companies and projects have taken root in Dezhou. The Songuo International Logistics Complex project is an international logistics Complex jointly constructed by Samsung SDS, Songuo Motors Co., Ltd. and Dezhou Financial Investment Group. Samsung SDS belongs to the Samsung Group and has an efficient logistics management, monitoring, and operation model, with logistics operations all over the world. The new energy automobile industry is an emerging industry of Dezhou, and Songuo Motors is an excellent industry representative of independent innovation. It is hoped that Songuo Motors will take this signing event as an opportunity and leverage strategic cooperation with Samsung SDS to borrow ships for sailing to accelerate the global strategic layout and achieve a strategic transformation from large to strong. The Dezhou Municipal Party Committee and Municipal Government will, with the utmost sincerity, do their best to create the best environment, provide the best service, escort the development of the enterprise, and promote the cooperation to take root and blossom as soon as possible.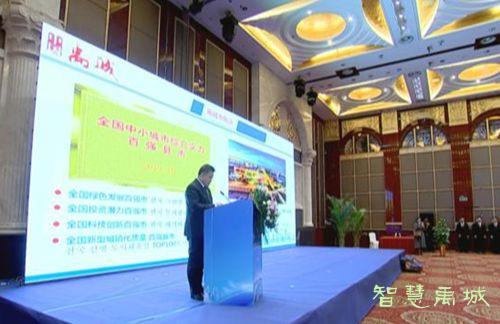 Teng Haiqiang, deputy secretary of the Municipal Party Committee and mayor, introduced the situation of the New Energy Equipment Industrial Complex in the Dezhou High-tech Zone. He said that in recent years, Yucheng has thoroughly implemented the provincial and municipal party committee and government's strategic deployment of developing modern industries and accelerating the conversion of kinetic energy, establishing a new high-end manufacturing city development positioning, and vigorously promoting the high-end and cluster development of the industry. In March 2018, the new energy equipment industrial complex was successfully introduced. The total investment is RMB 8.28 billion, accommodating 60 projects, and 24 have been settled. The core projects include Songuo Motors, Hongshi Jiwei new materials, G-Songuo composite materials, Engine Technology & PT, etc. After full production, it can produce 230,000 new energy vehicles, 300,000 modular buildings and 200,000 gas engines per year. At present, the project is progressing smoothly, the vehicle production area has been commissioned, and the supporting project area is under construction and completed in October 2020. The project has four significant characteristics and advantages: industrial cluster development, high-level industrial hierarchy, global industrial layout, and broad industrial prospects.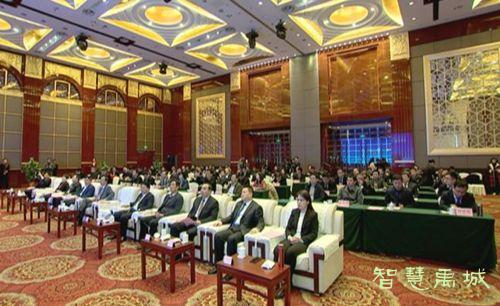 Zhou Haiyan, chairman of Songuo Motors Co., Ltd., introduced the project of Songuo International Logistics Complex. The Songuo International Logistics Complex project is located in the High-tech Zone of Dezhou, with a total planned area of 887 mu (a unit of area), a total budgeted investment of RMB 3.1 billion, and a construction area of approximately 429,000 square meters. The first phase of the project is expected to start construction in 2020. After the construction of the project is completed, it has the logistics capability of transferring 230,000 new energy vehicle modules and 63,000 sets of integrated new material building modules. Through three-party cooperation, with Samsung Group's top 500 global IoT technology, application of Samsung SDS's self-developed logistics management system and Songuo global market layout, relying on the strength and open management concept of Dezhou Financial Investment Group, is committed to In building a blockchain-based global logistics operation platform, establishing a world-leading efficient logistics system, and forming a one-stop global aftermarket service system with SONGUO as the core of logistics, warehousing and parts supply.
Hyung Tae Kim addressed the signing ceremony. He said that Shandong is one of the important areas for Samsung's development in China. Samsung Group will take the logistics complex project as an opportunity to cooperate with Songuo Motors Co., Ltd. and Dezhou Financial Investment Co., Ltd. to develop collaboratively. By creating a logistics transportation center that connects various forms of transportation, they will try their best to make contributions to the high-quality development of Dezhou.
Tim Shin, CEO of Songuo Motors Co., Ltd., Yu Tao, deputy general manager of Dezhou Financial Investment Group, and Hyung Tae Kim signed a contract to build the Songuo International Logistics Complex project.
Zhou Liang, Li Chunhou and Sun Dengjing, city leaders attended the signing ceremony.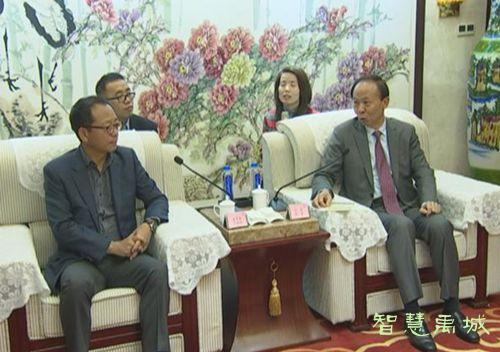 Before the signing ceremony, Chen Yong met with Hyung Tae Kim and Jiang Taihua and the delegation.
Source: Yucheng News