On 28th, March, the government of Shandong Province led commercial delegation from all regions to advance a couple of commercial activities in Seoul. Liu Bingguo, Deputy Secretary of municipal Party and Mayor of Dezhou, and Zhang Anmin, Standing Committee of municipal Party of Dezhou, Secretary General and Secretary of municipal Party of Yucheng leading the delegation of Dezhou and Yucheng attended the activities. During the meeting of economic and commercial cooperation and exhibition between Shandong Province and Korea that held on 29th, March, SONGUO motors that locates Yucheng held signing ceremony of cooperation and joint ventures projects with enterprises from 42 countries.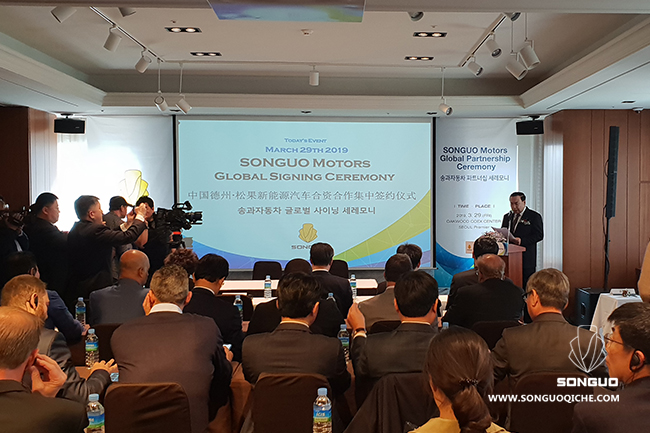 Zhang Anmin hosted the signing ceremony, and enterprises representatives from 42 countries attended the ceremony.

Liu Bingguo made a speech. He said, "Electrical vehicle industry is a key strategic emerging industry in Dezhou, and SONGUO motors is an outstanding representative of independent innovation and driving transformation and upgrading of Dezhou industries. We hope SONGUO motors will take the opportunity to speed up global strategic layout and promote the development of the company through cooperation with famous international vehicle marketing companies. Dezhou will create the most preferential environment and provide the most convenient services to promote the development of the company with the greatest sincerity and efforts.

Ms. Zhou Haiyan, chairman of SONGUO motors introduced the project background and basic situations of joint ventures with multiple countries.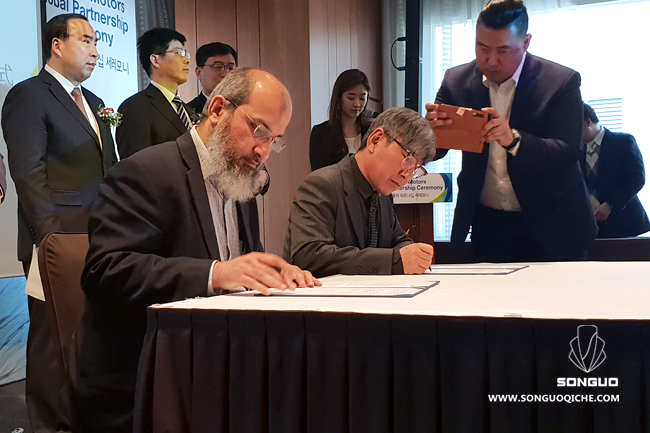 Representatives of companies from America and the UAE made a speech respectively. During the ceremony, Shin Yong Bok, the CEO of SONGUO motors signed with companies' representatives from 12 countries.

According to reports, during the ceremony, SONGUO motors signed distribution agreements with companies covering the five continents and 42 countries, exceeding 0.4 billion USD in total.

In the afternoon, the delegation also visited international motor show at international area of Seoul motor show. In the motor show, SONGUO motors rolled out 14 vehicles, attracting customers from all over the world.

On 30th, March, Liu Bingguo and Zhang Anmin attend the initial fund raising of SONGUO motors and press conference of investors relationship.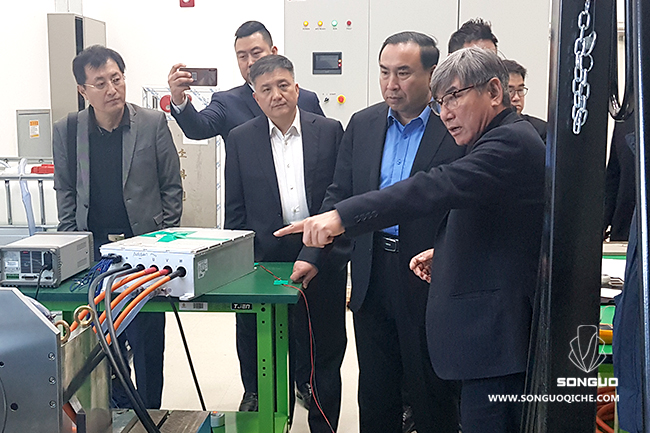 In Korea, Zhang Anmin also led the delegation to inspect R&D center of SGK, center of engineering design, research center of powertrain, engine, plastic injection, and molds.

Zhou Liang, Deputy Secretary of Party group of municipal government, Deputy Secretary of Party labor committee of high-tech zone and Standing Deputy Director of management committee, directors of Development and Reform Bureau and Commercial Bureau attended the activities.