Technology center of Songuo Motors was certified as the municipal technology center
On May 10, Development and Reform Commission of Dezhou City issued a notice on the announcement of the list of Enterprise Technology Centers in Dezhou in 2022. The 14 enterprise technology centers, including the technology center of SONGUO MOTORS CO., LTD., were identified as enterprise technology centers in Dezhou City.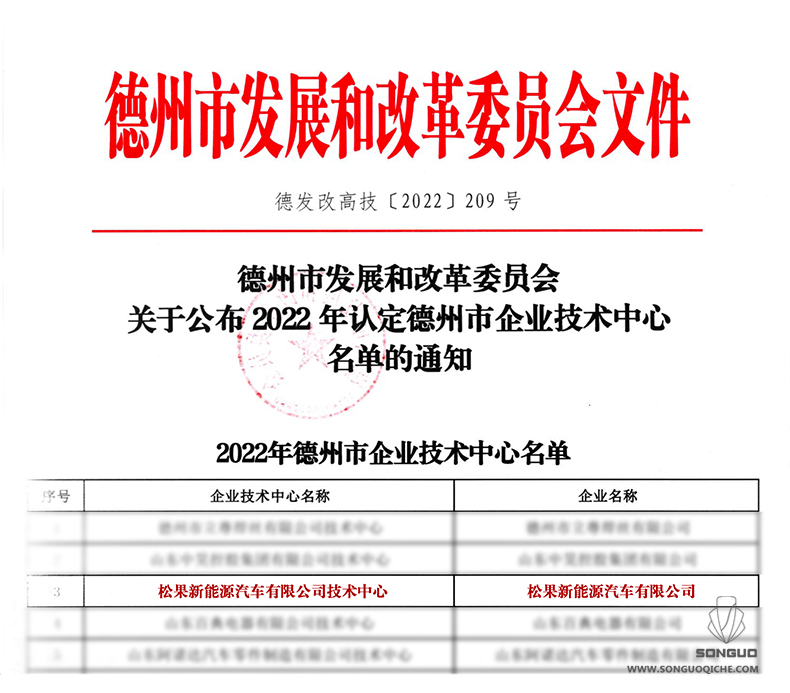 The goal of this notice is to hope that enterprises could take this opportunity to reinforce measures on the organization framework, operation mechanism, research and development investment, talent culture and production-teaching-research combination, etc., to further strengthen the construction of enterprise technology center, continuously improve the level of enterprise's R&D and innovation capability, giving full play to the enterprise technology center in promoting technological progress and industry transformation and upgrading.

SONGUO has acquired core technology through forward research and development, and realized the production without stamping, welding and painting of automobile for the first time with new materials, new technologies, new processes and new modes, which not only saves costs, improves production efficiency, and makes the production process more green and environmentally friendly. This recognition is the new driving force of enterprise technology center. On this basis, Songuo Motors will continue to adhere to scientific and technological innovation as its core and promote the steady and sustainable development of the enterprise.