On 16th, Songuo battery pack passed UN/DOT 38.3 Test and obtained relevant certificate.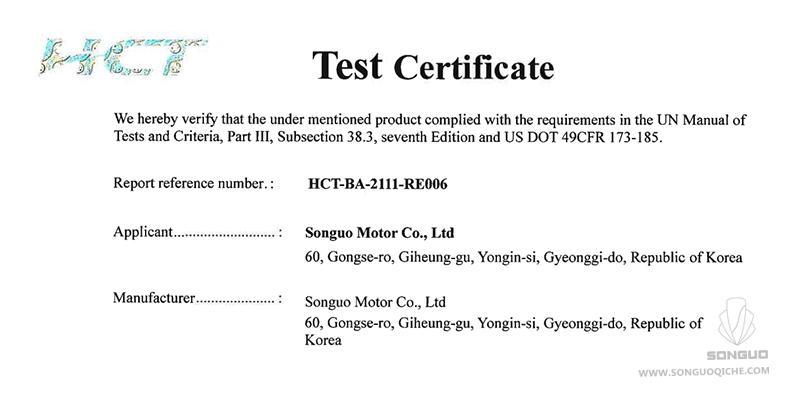 With the rising of the new energy vehicle in market share, battery safety has been paid more attention. The regulation for the battery safety has been strengthened as well. International organizations and governments have put forward technical requirements and conformity assessment standards on vehicle power battery.

UN38.3 refers to clause 38.3 of the third part in the United Nations Manual of Tests and Standards for the Transport of Dangerous Goods, which United Nations specifically formulated for dangerous goods transport. According to the clause, it is required that the lithium battery must pass several tests before shipping, including the altitude simulation test, high and low temperature cycle test, vibration test, impact test, short circuit test at 55℃, impact test, overcharge test and mandatory discharge test, in order to ensure the safety during the transportation. If the lithium battery is not attached to the devices (e.g. not installed to the vehicle), and each package contains over 24 cells or 12 batteries, it also need to pass the 1.2-meter free drop test.

The U.S. Department of Transportation (DOT) requires U.S. Transportation policies and regulations under 49CFR(sections 100-185). UN/DOT 38.3 covers transportation safety tests for all lithium metal materials, lithium ion batteries and rechargeable batteries.

As an innovative enterprise with the core EPT system technology of electric vehicles, Songuo always adheres to the forward research and development. Following the mass production of Cheonan Battery pack factory in South Korea in February 2020, several motors have passed the certification of South Korea National Laboratory, and the group battery pack has completed the EU certification in March 2021, the UN/DOT 38.3 test has also been successfully completed. So far, Songuo battery pack includes fixed battery pack, modular battery pack, group battery pack and other types of products, and vehicle battery pack, marine battery pack and other multi-purpose products.