MOU Signing Ceremony of Songuo Motors and Pininfarina (Italy) held
Following the national economic double-cycle strategy, Songuo keeps up the pace of the internationalization. On September 15th, Songuo Motors and Pininfarina of Italy signed the MOU in the four venues of Dezhou High-tech Zone, Seoul, and Piedmont, Italy.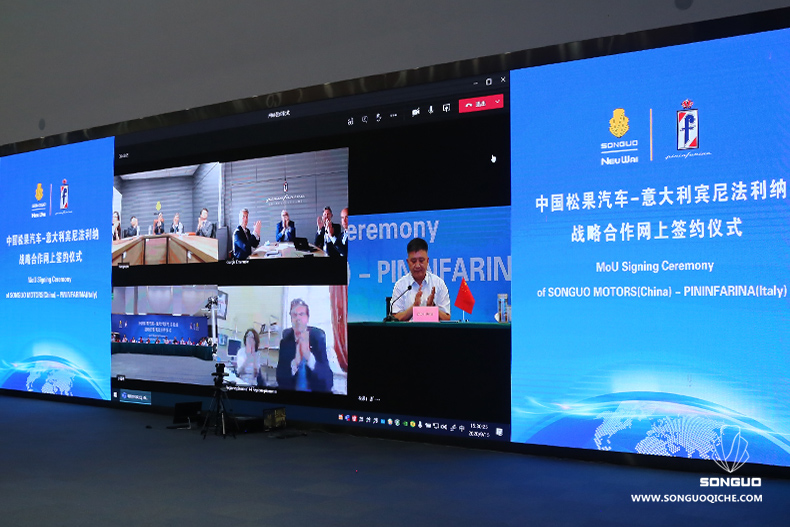 Pininfarina was established in 1930 and listed on the Italian Stock Exchange in 1986. It is a world-renowned automotive design company. Ferrari, Italian sports cars, BMWGroup premium cars, and many other leading car makers benefit from Pininfarina's design and engineering services; many other models, in different segments of the market, are also designed by it for the world's major automobile companies.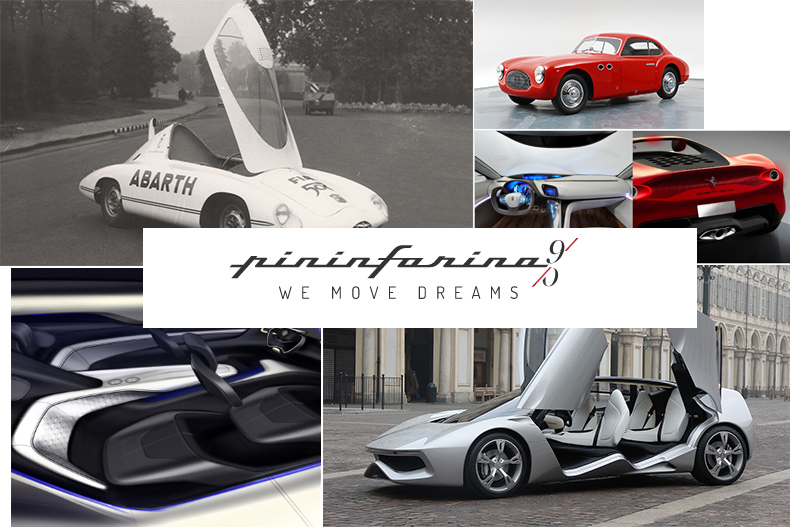 The two parties will cooperate in the design, development, assembly, manufacturing, and sales of Songuo's European automotive products; and plan to make a plant in Western Europe as one of the important production bases of Songuo, to promote the cost-effective Songuo new energy vehicles, enter the European market where the sales of new energy vehicles are rapidly increasing, and achieve coordinated development and win-win cooperation.
Mayor Zhang Guiai, on behalf of the Dezhou Municipal Party Committee and Municipal Government, expressed warm congratulations on the successful signing of the cooperation between the two parties and hoped that the two parties will take the signing as a new starting point, and Dezhou will make every effort to create a market-oriented legalized international business environment, as always, to safeguard the high-quality development of enterprises.
Dr. Andrea Tronzano, Regional Councilor of Piedmont, Italy, who is in charge of finance, industry and investment, said that the preparation of this strategic step has been based on the wide-range and uniqueness of the services offered by PININFARINA and their local automotive supply chain, and in SONGUO MOTORS outlook in investing on electric mobility technology, and looking at the Italian and European market, as a natural extension of its business in Asia. Representing Piedmont Region, they are committed to promoting the development of this collaboration.
"After fruitful discussion with SONGUO MOTORS, we are honored to be able to achieve such an important MoU signature that opens the doors to a collaboration aimed at developing new product and industrial opportunities, in Italy and in Europe." Said Mr. Silvio Angori, CEO of PININFARINA.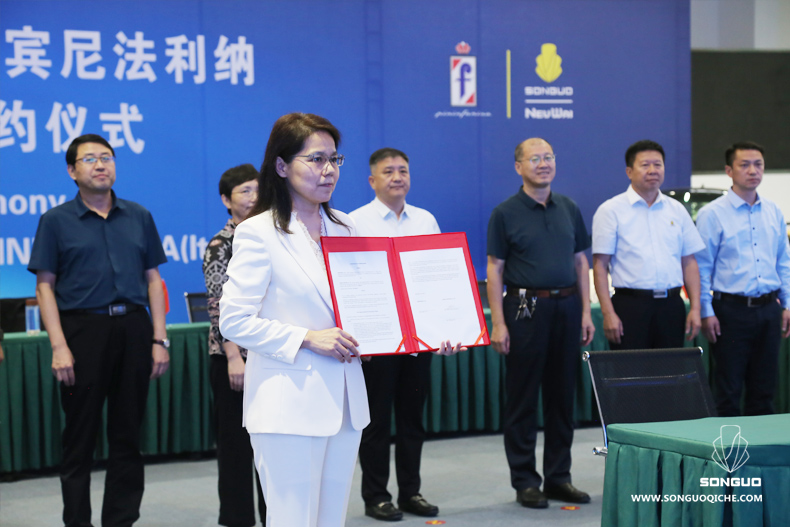 The signing ceremony is hosted by Zhou Liang, Deputy Secretary of the Party Leadership Group of Yucheng Government, Deputy Secretary of the Party Working Committee of Dezhou High-tech Zone, and Executive Deputy Director of the Management Committee. Ms. Giuliana Fenu, Director of System Competitiveness of Piedmont, President of Local Economic Promotion Association, Mr. Marco Milanesio, CEO of FINPIEMONTE, a government investment and financing institution, Wang Jianguo, Member of the Standing Committee of Yucheng Municipal Committee and Deputy Mayor, Li Chunhou, Deputy Director of the Standing Committee of Yucheng Municipal People's Congress, Tim Shin, CEO of Songuo Motors, SK Lee, CEO for Global Marketing of Songuo Motors, Vice President Zhang Congxin and Ha Kwang Yong, attend the event.