Songuo Motors Signed Strategic Cooperation Agreement with SsangYong Motor and Hyolim Group Formally
An acceleration in the pace of internationalization of Songuo Motors is moving on. On June 18, Songuo Motors signed the online strategic cooperation agreement with SsangYong Motor and Hyolim Group in Dezhou High-tech Zone and Seoul of South Korea.
Comrade Zhou Liang, Deputy Secretary of the Municipal Government Party Group, Deputy Secretary of the High-tech Zone Party Work Committee, and Executive Deputy Director of the Management Committee, presided over the ceremony. Teng Haiqiang, Secretary of the Yucheng Party Committee, Secretary of the Party Working Committee of the Dezhou High-tech Zone, and Director of the Management Committee, Yea Byung-tae, CEO of SsangYong Motor of South Korea, Jin Zhongzhen, CEO of the Hyolim Group, and Zhou Haiyan, Chairman of Songuo Motors, delivered speeches.

Secretary Teng Haiqiang introduced the industrial characteristics of Yucheng, emphasizing that the municipal party committee and government will continue to support the development of Songuo Motors, the key project of Yucheng, and expressed his wish that the cooperation will achieve fruitful results. As a major construction project in the province and city, Yucheng's "No. 1 Project", Songuo has been rapidly promoted with the support of the municipal party committee and government, with a rapid development momentum, since its landing. The outbreak of COVID-19 in 2020 was sudden, the supply chain of the automotive industry and the flow of international technical personnel were limited, and the progress of the project was delayed, but Songuo has been moving forward. In August this year, the trial assembly of a new batch of vehicles will be completed; In October, the mass production of 5 products of 4 models will start from order to delivery(OTD) at the Dezhou High-tech Zone base.
The CEO of South Korea's SsangYong Motor, Yea Byung-tae, said in his speech that through today's strategic cooperation among three parties, the first step in production by Songuo DKD and R&D of unique models has been launched and it has opened the popular history of South Korea's compact SUV based on Tivoli, the best-selling model, which has been sold more than 330,000 units so far. SsangYong Motor, established in 1954 and following the history of the Korean automotive industry, has opened the door to the era of four-wheel drive in South Korea with its original technology. It is the first motor company in Korea to establish a full line up system for SUVs. In 1991, SsangYong and Daimler-Benz formed a technical partnership to become a high-end Korean manufacturer known for off-road. They successfully updated the first famous SUV brand Tivoli, Rexton Sportcar, the only convertible SUV in China, G4 REXTON, Korando and other SUV models. With 66 years of development, SsangYong Motor's network covers more than 70 countries and regions around the world.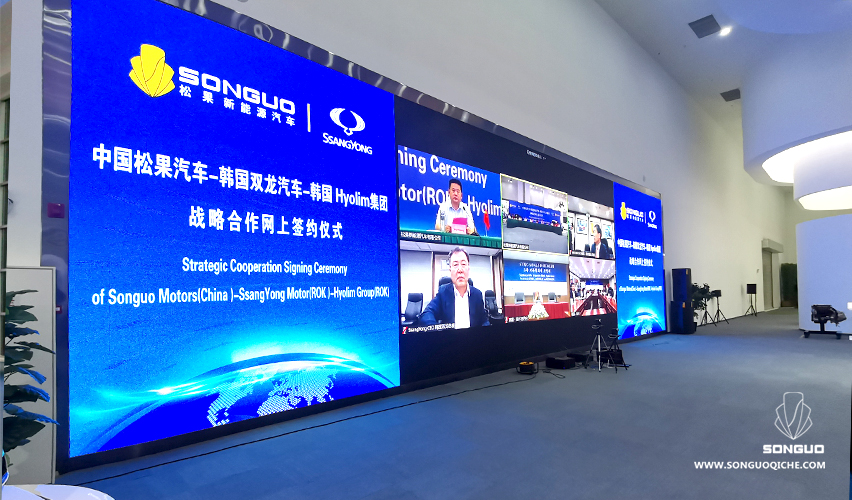 Hyolim Group was founded in 1998, which is a prominent automobile supporting enterprise who owns numerous organizations and enterprises such as Hyolim Industry, Hyolim Precision, Hyolim HF, Digen automobile electric parts factory, national level high-tech enterprise Tianjin Hyolim, Eco-plasma institute, EmatSoft multimedia solution R&D center, OBIGO intelligent network technology solution development center, GrapCar instrument and so on. Hyolim Group was awarded as the high-speed growth top 500 enterprise of Asia-Pacific region and star enterprise of Taegu City for two consecutive years.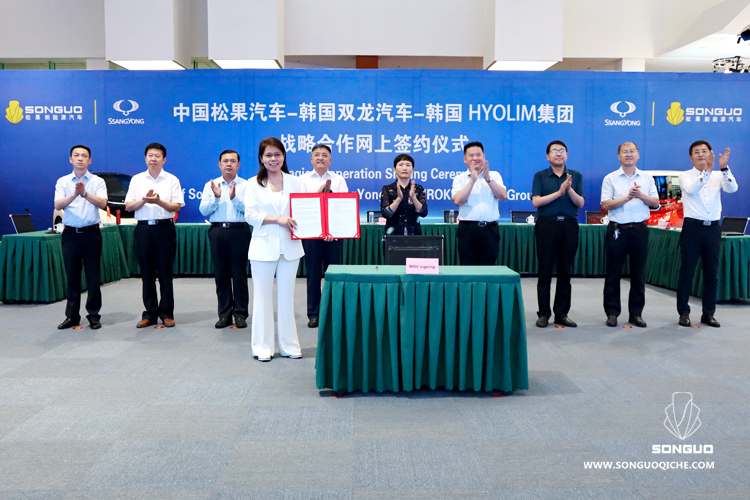 Chairman Zhou Haiyan expressed that automobile industry is going through the most profound transformation. Not only regarded as the process reproduction of assembly line production and delicacy management, automobiles in future, based on 5G and artificial intelligence, is an innovative platform from transportation tools to high-tech integration with software and hardware. The automobile industry valued thousand trillion will step into a brand-new future. The MOU signing of three sides will help to achieve strength complements and win-win cooperation.
When the strategic cooperation starts, Songuo Motors, SsangYong Motor and Hyolim Group will cooperate on multiple aspects, such as product manufacturing, capacity expansion, technology & platform, market network and so on, to speed up the delivery of high cost performance EV which will step into the global market and people's life. Meanwhile, taking the signing ceremony as an opportunity, Songuo Motors, SsangYong Motor and Hyolim Group will collaborate under close communication, accomplish industrial chain complements, achieve win-win on strategic targets and jointly start a new phase of development with high efficiency.
Zhang Guiai, Deputy Mayor of Dezhou City, Wang Jianguo, Member of Yucheng Municipal Standing Committee, Deputy Mayor of Yucheng, Li Wenqiang, Member of Standing Committee and Secretary General, Li Chunhou, Deputy Director of the National People's Congress of Yucheng, Zheng Yongyuan, Vice Chief Executive Officer of SsangYong Motor, Tian Shengyu, Vice Chief Executive Officer of Hyolim Precision, Zhang Congxin, Sun Wenhai, Vice Chief Executive Officer of Songuo Motors, and Huang Longxia, Vice Chief Executive Officer of Songuo Korea attended the signing ceremony.